Welcome to Kaufman Development Group
Kaufman Development Group is a family company with a diverse portfolio of affiliated businesses and properties across the Southeast and Midwest United States. Kaufman Development Group and its principals have in depth experience across many industries including Real Estate, Manufacturing, Hospitality, Food Service, Marketing, Private Equity Financing, and more. Below is a sample of a few Kaufman Development Group businesses and properties.
---
Frederica Golf Club
Frederica Golf Club is a private golf club in St. Simons Island, Georgia dedicated to creating an unmatched golf and club experience. Through our world class facilities and staff, we are able to provide outstanding service for our members and their guests. From the moment that you enter the tabby front gates, you will be immersed in the captivating grandeur that is Frederica Golf Club. While golf is our core, Frederica Golf Club offers our members a multitude of amenities to provide a complete membership experience.
---
Frederica Marsh Cottages
Experience Frederica Golf Club living like never before, with direct golf cart and walking access to the club from this gated 27 home development located adjacent to the Frederica Golf Club practice and learning facilities. These 27 unique single-family homes will each be designed and built with custom finishes and touches throughout, all while maintaining the natural asthetics of the property including the many breathtaking mature oaks throughout.
---
Situs Real Estate
Situs Real Estate is a boutique real estate firm located in Southeast Georgia that focuses on luxury residential sales as well as commercial real estate. Situs and its agents offer a bespoke real estate experience for first-time to seasoned buyers as well as investors and developers alike.
---
Burn180
Start training like a pro—and never look back. The BURN180 system has been developed and refined based on real feedback from Professional Athletes—including professional baseball players, professional football players, and professional golfers.
The best part is our simplicity. The BURN180 system takes less than 30 seconds to set up and less than 10 seconds to take down—and stores in a carrying bag for effortless transportability.
For strength, rehab, and muscle memory motions, BURN180 gives you a complete and total workout in 20 minutes—and the versatility to burn just about anywhere.
---
Work The Wick
The Wick is a shared work space that offers tenants the privacy of individual office spaces with the amenities of larger office buildings. With 3 convenient locations in Historic Downtown Brunswick, Georgia offering over 100 unique offices, The Wick is a community of entrepreneurs, small businesses, professionals, non-profits, creatives, and more.
---
The Club at Hillbrook
The Club at Hillbrook, a private 50-acre estate, is located minutes from downtown Chagrin Falls, Ohio at the end of a picturesque country road. Hillbrook offers a wide range of services including fine-dining, accommodations, tennis, pool, fitness, weddings and corporate events. Hillbrook was named "One of the top 50 best wedding venues in America" by Brides.com, and has also been featured on The Knot.
---
Lake Sinclair Development
This spectacular development property boasts over 640 acres on over 3.5 miles of shoreline on the Northeast section of Lake Sinclair, just minutes south of Lake Oconee. This development will capitalize on the natural beauty of Lake Sinclair and the 3.5 miles of untouched shoreline to create a boater's paradise. This breathtaking locale is less than an hour and a half drive from Atlanta, Augusta, Athens, and Macon, providing a perfect spot for a weekend or summer getaway.
---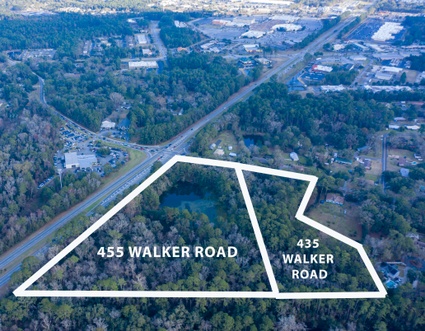 Walker Road Development
In the heart of Glynn County, Georgia, this prime 18.2 acre development property is located on the corner of Golden Isles Parkway and Walker Road, within a mile east of I-95 and central to numerous multi-family and major commercial developments. The site has been sucessfully rezoned as Planned Development, allowing for up to 216 total units, consisting of multi-family, single-family, and/or attached product. Nearby developments include: Coastal Club Apartments, The Enclave, Legacy Apartments, Lanier Landing Apartments, Sam's Club, Home Depot, Hobby Lobby, Academy Sports, Home Goods, Panera, Chick-fil-a, Cheddars, Chipotle, and many more.